COOL STUFF ON THE WAY!
Here you can see cds, t-shirts and other cool stuff that will be added to the shop.You can also preorder these items. If you
preorder
it is easier for me to know how many copies I shall order.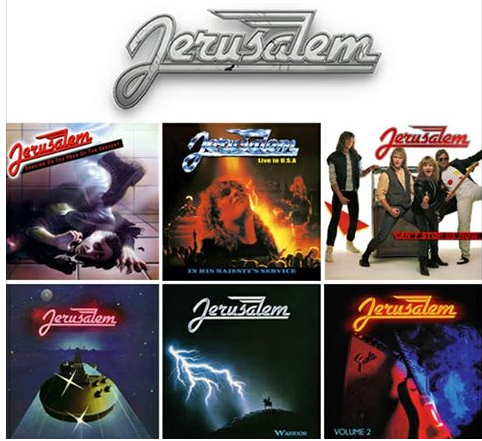 JERUSALEM - 6 first albums remastered on CD!
Yes, classic Swedish Hardrockers are finally releasing their first 6 albums on CD. All tunes are remastered making them sounding better than ever. Dancing on the head of the serpent is relased on a double CD featuring both the Europe and and American edition! ALL tunes on the original releases are included. Can't stop us now also features the two bonus tracks "Time" from the Front Row compilation and "Heartbeat (Light Remix)" from the Tretti compilation. Great 70s/80s Melodic Hardrock with tons of catchy hooks! For fans of Kiss, Scorpions and Deep Purple.
CRYSTAVOX - Crystavox
Next year Crystavox first album will finally be remastered and rereleased! Very catchy melodic hardrock with tons of hooks and catchy guitar solos.Will be released on both CD and LP.
CRYSTAVOX - The Bottom Line
Next year Crystavox second album will finally be remastered and rereleased! Heavy Melodic Metal with catchy guitar solos. Will be released on both CD and LP.
ETERNAL DECISION - Eternal Decision
Great metal album with Metallica influenced vocals that soon will be rereleased! Will come in store later this year.
BLOODGOOD - In The Trenches of Rock'n'Roll (DVD & Bluray!
This is a cool professional Rockomentary of Bloodgood! Trenches Of Rock explores the depth of their ministry, the ensuing brotherhood & camaraderie of its band members, & the hardship & perseverance it takes to keep a rock band together for 3 decades. Trenches includes in-depth interviews with many past & present BLOODGOOD members, openly sharing their individual perspectives, internal struggles, triumphs & tragedies, layered throughout reels of unseen archival footage, much of which were obtained from the personal collections of the band. Trenches is essential viewing for BLOODGOOD & rock & roll fans alike, as well as anyone who wants an up close look at what makes a historical band legendary. Will be released on both DVD and BLURAY!
SEVENTH ANGEL - The Torment and Lament For The Weary on LP!
Excellent thrash/doom metal with very heavy guitars.
JOSHUA - Intense Defense (Remastered) CD
This Melodic Metal/AOR classics with Rob Rock on vocals will seen be rereleased!The whole Intense Defense album has been remastered, making it even better with a cleaner and more powerful sound with more punch. Take the chance and preorder this Melodic Metal classic filled to the bone with catchy hooks and amazing guitar solos!
---
© Metal Community 2018